With more than 25 years of experience in the construction of ice rink (skating rink), the German ice business company is one of the few companies approved by the World Ice Hockey Federation.
This complex has technical knowledge, a long history in the execution sector and also a strong relationship with the largest and most reputable companies producing the mentioned equipment. The possibility of constructing ice skating rinks in the shortest time and according to the needs of its customers in different sizes and It has a temporary and permanent form.
Due to the concerns of investors in this section, this complex provides the information needed to build an ice rink (skating), which includes items such as equipment required to manage the operation of the related entertainment track and other related items. Which is fully explained in this section.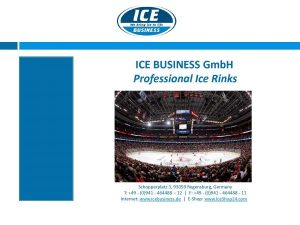 Our goal is to gather high quality technology, along with creating beautiful ice rink landscapes and natural landscapes. Ice Business has rich experience in the cooling process and ice track construction technology. Which can give our customers this assurance for a successful partner.
This complex has been able to build and operate more than 100 skating rinks to date, and this can be a great help for customers both in terms of land construction technology and in terms of economic justification.
All our customers can use the help of this collection to successfully build their own lands.
This complex has the ability to build an ice rink and rent these lands in Germany and around the world. In fact, Ice Businesses has been able to achieve two-thirds of its turnover by expanding the markets of Southern and Eastern Europe, the Middle East, Africa.
Ice Business has also been active in the US market since 2006.
Among the advantages of Ice Business Company are complete familiarity with marketing methods, correct and optimal operation, time management and energy in order to reduce the return on investment time, investors of various projects who are present with the employers during the operation without receiving additional costs. It gives confidence to make investments in this sector